WPC DECKING MANUFACTURED IN VIETNAM FACTORY
WPC DECKING MANUFACTURED IN VIETNAM FACTORY
I. WPC DECKING MANUFACTURED IN VIETNAM FACTORY ISO 14001:2005, ISO 9001:2015, FSC, GREEN LABEL
1. 1. We are Eurostark – a Wood Plastic Composite manufacturer in Vietnam
We now target potential WPC decking importers in all countries. Our company is one of the OEM leading manufacturers in the WPC decking industry. Our WPC decking has a lot of strengths namely high quality, durability, high fashion, environmentally friendliness which will satisfy customers from developed countries. We have already exported worldwide since 2015 started in Germany, North America, Middle East, Korea, etc with over 200 containers per year.
1.2. Why our WPC decking will be a great choice for your outdoor construction flooring 🤔
We are confident to show up our WPC products' international standard certificates such as ISO 14001:2005, ISO 9001:2015, FSC, GREEN LABEL, etc. All these certificates will strongly prove for our product quality which even satisfies the strictest markets namely EU, US, Japan, Korea, Italy, Colombia, etc. Unlike other materials, WPC will bring you closer to the nature because of wood powder material which PVC material cannot do, and, it still strongly resists the dramatically changing weather which is wood material's weakness. 👍👍👍
☎️ You want to inquiry, contact Ms. Rivera ☎️
Email: Rivera@europlastwood.com.vn
Whatsapp👉Kakaotalk👉Line👉Telegram👉Zalo: (+84) 943 067 032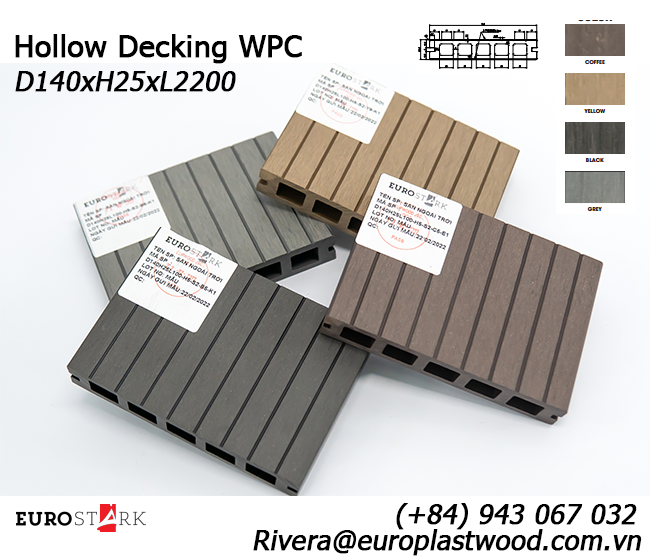 II. OUR FOUNDATION AND DEVELOPMENT STORY OF WPC FACTORY AND WPC PRODUCT LIST 
2.1. Our foundation and development story of WPC factory
Our company was founded in August 2015 with a strong belief to serve all customers with high quality WPC products used for outdoor construction. In 2016, EUROSTARK started to export to Germany market. In 2018, our WPC factory upgraded the production line with a view to supplying a huge quantity for customers in France. Meanwhile, it's our honor to achieve BSCI and FSC certificates which prove our WPC product's quality, company level in foreign market. In 2019, we expanded the WPC exporting market to North America, Middle East and Korea with an impressive number – 120 containers per year. In 2020, EUROSTARK invested to upgrade the production line by increasing extruder machines which raise our productivity to 200 containers per year. In 2021, despite Covid-19 we are still strong and keep moving forward by increasing production capacity with more 12 WPC extruder machines imported, and develop more innovative product and design to satisfy our trendy customers' taste. 👍👍👍
2.2. Our WPC product list is wide enough for you request ❤️
For outdoor flooring construction, we manufacture WPC decking and WPC decking tiles. WPC products are suitable for outdoor construction, gardening, and DIY building. Our composite decking has various sizes such as 145×21, 145×25, 140×25, 138×22 and 145×22 normal and co-extrusion decking with 4 holes, 5 holes, 6 holes, and solid decking. Besides WPC composite decking and WPC decking tile, we also manufacture WPC pergolas, WPC column, WPC cladding, WPC flower pot and planter trolley. We also supply WPC pellets for WPC production.  
III. CONTACT US FOR MORE INFORMATION
Thank you very much for considering our WPC products and we are willing to support and supply you. Our brand – EUROSTARK is the leading brand of Wood plastic composite not only in Vietnam but also in South East Asia. Your satisfaction is our happiness. ❤️ We are confident to supply you with the high and constant quality, on time delivery with an experienced and professional working attitude. 
☎️You want to inquiry, contact Ms. Rivera ☎️
Email: Rivera@europlastwood.com.vn
Whatsapp👉Kakaotalk👉Line👉Telegram👉Zalo: (+84) 943 067 032
composite decking
composite decking home depot
composite decking manufacturers
composite decking installation
WPC OEM
WPC deck
WPC decking flooring
Swimming pool deck
swimming pool deck flooring
outdoor decking